'Moderate' Indonesia (as Hillary Clinton so likes to call it) has accused the top editor of a leading English-language newspaper of blasphemy after the paper published a cartoon depicting the flag of the Islamic State (ISIS) that allegedly insulted Islam.
NY Times 

(h/t Larry A) 

Meidyatama Suryodiningrat, editor-in-chief of the Jakarta Post, would be summoned for questioning next week. If found guilty, he could face five years in prison. The cartoon published July 3 put a skull and crossbones in the black-and-white flag of ISIS and left sacred phrases in Arabic, including "Allah," that appear on the flag inside the skull.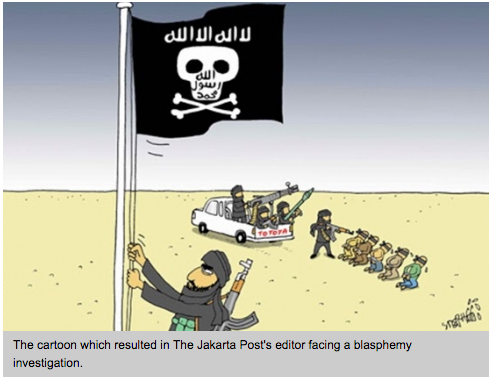 The chief editor of a prominent Indonesian newspaper, the English-language Jakarta Post, has been summoned for questioning by the police for publishing a cartoon that depicted radical Islamists in Syria. The editor, Meidyatama Suryodiningrat, is being treated as a suspect under a blasphemy law, according to a police spokesman quoted in the Indonesian news media on Friday.
The cartoon, which ran in the daily newspaper in July, shows militants raising a black flag emblazoned with a skull and crossbones and Arabic phrases, including, "There is none worthy of worship except Allah." In the background was a white pickup truck and what appeared to be the imminent execution of a row of blindfolded people on their knees.
Indonesian Moderate's
It was drawn by Stephane Peray, a French cartoonist based in Bangkok who syndicates his work. "Don't want to talk about it," Mr. Peray said by email. Mr. Meidyatama was quoted in The Post on Friday as saying he was "amazed" at the suggestion of blasphemy because the cartoon was meant to criticize deviant Islam.
"What we produced was a journalistic piece that criticized the ISIS movement, which has carried out violence in the name of religion," he was quoted as saying, referring to the Islamic State militant group. Conservative Islamic groups protested when the cartoon was published, contending that it "strengthens the stigma that Islam represents senseless murderers," according to Haris Amir Falah, one protest leader.
The newspaper issued an apology and a retraction. It is unclear why the case, which staff members at the newspaper said they assumed had been dropped, is now being pursued. Sidney Jones, an expert on political Islam in Indonesia, said the case appeared to reflect the anger of hard-line groups toward a leading moderate voice in the country.
"I see an effort to try to threaten a newspaper which has consistently promoted a policy of tolerance and a rejection of extremist tactics," said Ms. Jones, director of the Institute for Policy Analysis of Conflict in Jakarta.
That's some pretty good English writing!!! Really Indonesia? Or is it our own back yard.
The Indonesian government in August banned the teachings of the Islamic State after dozens of Indonesians were reported to have joined the movement in Syria. Over the past decade and a half, the government has also sought to contain homegrown radical movements responsible for the bombings of tourist spots and attacks on churches.
Indonesia, the world's most populous Muslim-majority country, has faced building tension in recent years between a historically moderate core of believers and hard-line conservative groups pushing for what they consider a purer interpretation of Islam. That stance includes stricter observance of Muslim dietary traditions, tighter controls over religious minorities like Shiite Muslims and bans on alcohol.
The country's blasphemy law calls for prison sentences of up to five years for religious "abuse" or defamation. In recent years, the law has been used against minority Islamic sects. More than 100 people have been convicted under the law over the past decade, according to a report by Amnesty International released last month.